Book now your luggage storage in Buffalo with Radical Storage, the first luggage storage network
Online reservation mandatory
Find your luggage storage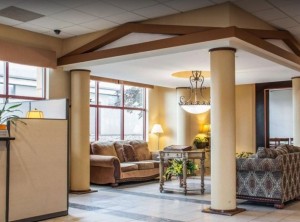 0,1 miles from Buffalo Niagara International Airport

Please try different criteria
Most popular
Why to choose Radical
More and more people decide to book a flight later in the day because of their cheap price. In case you arrive early in the morning, will your hotel hold your luggage until the check-in? And if you need to store your bags after the check-out, will your B&B let you do it? With BAGNB you have the perfect solution for such problems. By downloading the app or visiting the website you have the opportunity of reserving a verified luggage storage all over the world, in Buffalo as well.
Try our useful luggage storage in Buffalo
All our partners are safe and verified local businesses where you can leave your bags paying a very cheap price. Buffalo's rate is $6, as the rest of the US. We call the venues Angels because they are reliable and collaborative. A very kind staff will help you with the check-in operations in order to simplify the service. Please do not forget to store the receipt because you have to show it when you take back your luggage.
If you have questions or doubts, do not hesitate to contact us by using the live chat.
What you can see in Buffalo
If you are fascinated by the natural beauty and if you love exploring exciting locations, Buffalo is the right place for you! However in the town, there are endless possibilities of things to see and do, so if you spend your holiday there, you will surely live an amazing experience.
If you like sports, for example, you should visit the Coca-Cola Field that is the home of the Buffalo Bisons. The Ralph Wilson Stadium is the perfect location for football fans. Indeed, if you love arts and culture you should go to the Buffalo City Hall or to the Shea's Performing Arts Center.
Niagara Falls
Famous Niagara Falls are situated about 20 miles north of Buffalo. They are the most important waterfalls in the world that straddle two nations: Canada and the US. You can't forget going there if you are in the neighborhoods otherwise you will lose a unique occasion.
So just choose the place where you will admire this incredible natural show and enjoy your travel.